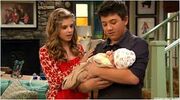 Starle

General Information
Nickname
Sweetest Couple
Intimacy Level
Friends/Dating
Started Dating
Date It Up, Surprise It Up
Dating Status
Dating

Starle is the friendship/romantic pairing of Starla and Gabe Martinez. They are Dating and are very good friends.
Friendship pairings Jianca, Bratelyn Siace and Calia
Similarities
Edit
They both take honors classes.
Their last names both start with an M.
They both have a older brother.
Differences
Edit
Starla has dirty blonde hair and Gabe has brown hair.
Starla was born in April and Gabe was born in July.
Offical Color
Edit
Love You Like A Love Song by Selena Gomez
Love Story by Taylor Swift
Everything Has Changed by Taylor Swift ft. Ed Sherran
Love Somebody by Maroon 5
Without You by David Guetta and Usher
Miss Movin On by Fifth Harmony
Kissin U by Miranda Cosgrove
Before He Cheats by Carrie Underwood
Picture This By Big Time Rush
People think that they are the best couple in school.
They are friends with Bianca Carter, Katelyn Hampton, Talia Green, Rachel Rockwell, Madison Rockwell, Alana Anderson, Braydon Trent, Jeremy Hampton, Brody Anderson, Connor Carter and Jake.
They had kissed at least 14 times in a month.
Their anniversary is February 14, Valentine's Day.
Gabe says, "I can never stop thinking about her, there is no one else in the entire universe for me."
Starla says, "I adore Gabe, he is so caring and sweet, he is the best boyfriend ever!"
<gallery> Palmieri15.jpg Untitled_gabe.png Starla2.png Untitled_gabe2.png Isabella-Palmieri.jpg
Community content is available under
CC-BY-SA
unless otherwise noted.