"
Hey, Hey, Hey!
"

— Rocky's catch phrase
Raquel "Rocky" Oprah Blue
is a smart, intelligent girl who expieriences new things while being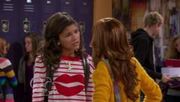 pushed to do things by her best friend
Cece Jones
and she is the deuteragonist. She is currently on
Shake It Up, Chicago
her
favorite T.V. dance show. She loves to dance. She is 18 years old and she was born in 1997. Rocky is always getting pushed by Cece to do new things.
She is portrayed by Zendaya.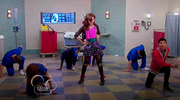 Personality
Edit
Rocky is described as generous, funny, and overachieving. She values learning and has a perfect attendance record. Unlike her red headed, best friend, CeCe, she values school and takes honors classes. She is extremely intelligent, but is more book-smart rather than street-smart, the opposite of CeCe. She is a vegetarian and believes strongly in human and animal rights. Rocky is quite reserved and thinks logically before acting, which causes her to be pushed around by CeCe to take more risks. She is always trying to get CeCe out of trouble, which often gets them both into trouble. Rocky loves dancing and wants to pursue it.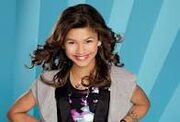 Appearance
Edit
Rocky is a smart, intelligent girl who normally wears wavy, curly dark brown hair. She wears lots of cardigans, vests, sweaters with tops and jeans. Sometimes she wears skirts too with her outfits. You can see that she wears dresses to parties, school dances, and special occasions.
Relationships With Other Characters

Edit
Gunther HessenhefferEdit
Rocky is a "frenemy" of Gunther's, fellow Shake It Up, Chicago! dancer, and schoolmate. They don't often get along and like to throw insults at each other, but they can be friendly at times.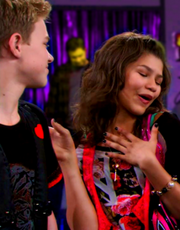 Tinka HessenhefferEdit
Tinka is Rocky's frenemy and sometimes friend. They don't often get along and Tinka takes every opportunity to insult Rocky, but not as much as CeCe.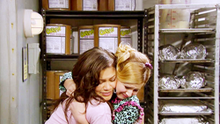 Cece JonesEdit
CeCe is Rocky's best friend, neighbor, classmate, and a fellow dancer on Shake It Up, Chicago. While they both harbor a love for dancing, they have opposite personalities: Rocky is a good student who likes to stay away from trouble, while CeCe is dim-witted, wild and usually has Rocky do her homework. They've been best friends ever since. Rocky is usually seen entering the Jones' apartment by climbing through the window via the fire escape (along with her greeting,("Hey, hey, hey!).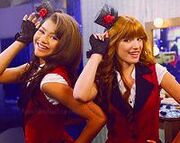 Deuce MartinezEdit
Deuce and Rocky are close friends. They might have crushes on each other. In one episode, when Dina moved away from Chicago, Deuce and Rocky kissed, when DIna came back. Rocky and Deuce like each other as friends and still maybe possibly boyfriend and girlfriend. While Rocky and Deuce are different, they still have crushes on each other. They are close friends, and schoolmates. They both attend John Hughes High School in Chicago.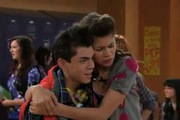 "Hey, Hey, Hey"
"Oh My Gondala"
| | |
| --- | --- |
| | To view the Rocky Blue gallery, click here. |
Community content is available under
CC-BY-SA
unless otherwise noted.