Jade Rockwell is a smart, intelligent, fashionable, and kind popular 16 year old girl. She is frenemies with Starla Micheals, Lindsay Hampton, Maddie Carter, Rachel Watson, and Felicity Hampton. She is portrayed by Bridgit Mendler.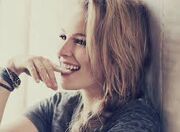 Personality
Edit
Jade is a smart and pretty girl who dances on Shake It Up, Chicago. She is very nice like her sisters, Rachel, Amber, and Cara Rockwell. Jade is an amazing singer and dancer.
Appearance
Edit
Jade has blond hair and brown eyes. She wears pretty tops with shorts or jeans. She rarely is seen in a skirt or dress.
Wrecking Ball by Miley Cyrus
Mr.Know It All by Kelly Clarkson
Hurricane by Bridget Mendler (her actress)
Ready or Not by Bridgit Mendler
Top of the World by Bridgit Mendler
Blonde by Bridgit Mendler
Relationships
Edit
Rachel and Jade's Relationship
Jade helps Rachel when she needs help. They talk to each other at school.
They don't have a great relationship because they go to different schools. But Jade sometimes helps Amber with her homework and cares for her.
Jade cares about Cara a lot because she is the youngest.
Starla and Jade's Relationship
Jade doesn't like Starla because she thinks Starla is dumb. They are Frenemies but, they might like each other. They were picked to be together in a science project in Date Decision It Up.
Jade and Skyler's Relationship
Jade and Skyler are best friends.
Gavin is Jade's ex- boyfriend. Jade might still have a crush on him.
She has an amazing voice
She is super smart
Jade is great at dancing
She is popular at school
She has been in many singing competitions
Community content is available under
CC-BY-SA
unless otherwise noted.