Name:
Annabella Avery Thorne
Other Names:
Bella Thorne
Birth Place:
Pembroke Pines, Florida
Birth Date:
October 8, 1997
Years Active:
2003-present
Occupation:
Actress, Singer, Dancer, Model
Bella Thone is actress, dancer, singer, and model who has dyslexia. She was born in Pembrock Pines, Florida on October 8, 1997. Bella is a singer and dancer who stars as CeCe Jones in Disney Channel show, Shake It Up. Bella and Zendaya both star in the Disney Channel Original Movie, Frenemies as Avalon Green and Halley Brandon.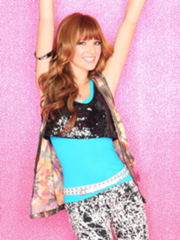 Filmography
Edit
Stuck On You-MC Sidelines Fan (2003)
Finishing the Game-Sue (2007)
Blinding Ambition-Witbert DaNiels (2007)
The Seer-Young Claire (2007)
Craw Lake-Julia (2007)
Water Pills-Psych Out Girl (2009)
Forget Me Not-Young Angela (2009)
One Wish-Messenger (2010)
Raspberry Magic-Sarah Patterson (2010)
Frenemies-Avalon Greene (2012)
Buttermilk Sky-Jennie (2013)
The Familymoon-Unknown (2014)
Home Invasion-Jamie (2014)
Alexander and the Terrible, Horrible, Not Good, Very Bad Day-Unknown (2014)
Big Sky- Unknown (2014)
Home Invasion- Jamie (2014)
Entourage-Kid (2006)
The O.C.-Young Taylor Townsend (2007)
Dirty Sexy Money-Margaux Darling (2007-2008)
October Road-Angela Ferili (2008)
My Own Worst Enemy-Ruthy Spiney (2008)
In the Motherhood-Annie (2009)
Mental-Emily (2009)
Little Monk-Wendy (2009)
Big Love-Tancy Henrickson (2010)
Wizards of Waverly Place-Nancy Lukey (2010)
Shake It Up-CeCe Jones (2010-2013)
Good Luck Charlie-CeCe Jones (2011)
Prank Stars-Herself (2011)
Video Games
Edit
The Ant Bully (video game)-Ant Kid (2006)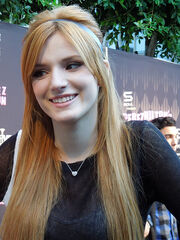 Discography
Edit
Can't Stay Away-2012
Bubblegum Boy (with Pia Mia)-2011
Watch Me (with Zendaya)-2011
TTYLXOX-2012
Fashion is My Kryptonite (with Zendaya)-2012
Contagious Love (with Zendaya-2013
Something to Dance For/TTYLXOX mash up-2012
The Same Heart-2012
Made In Japan-2012
Rockin' Around the Chistmas Tree-2012
This is My Dance Floor-2013
Blow The System-2013
Get'cha Head in the Game-2013
Call it whatever-2014
Community content is available under
CC-BY-SA
unless otherwise noted.